January/February 2022
This report is to be shared by design to communicate the full scope of Unizin impact, work products, and status at your institution.
Perspective:  New CTO Engages Unizin Community at UNL
As I find my footing in my role as CTO at Unizin, I have the unique opportunity to engage with Unizin's diverse stakeholders. I attended a Learning Analytics Community of Practice presentation by Chad Brassil and his colleagues Justin Olmanson and Casey Nugent from the University of Nebraska-Lincoln (UN-L).   I was struck by the unique role Chad played in growing the use and impact of the Unizin Data Platform (UDP) at UNL.
Chad's primary role is as an Associate Professor of Biological Sciences, where he teaches and conducts research addressing ecological system questions such as how climate variation affects prairie communities. In 2020, Chad's role expanded to include being the inaugural Faculty Director of Undergraduate Analytics. This new role was the brainchild of Amy Goodburn, Sr. Associate Vice Chancellor and Dean for Undergraduate Education, and Heath Tuttle, Chief Information Officer, who both wanted to find a way to get faculty more involved in Unizin, and particularly leveraging the UDP.
Amy stated, "Heath and I wanted to find a way to bring faculty more directly into our Unizin efforts.  The UDP seemed like a great place to involve a faculty member, particularly someone like Chad who brings not only faculty experience to the role, but also the technical and statistical expertise needed to draw insights from the data contained in the UDP."
In his role as Faculty Director of Undergraduate Analytics, Chad works across units including IT Academic Technology, the Office of Institutional Effectiveness and Analytics, and the Center for Transformative Teaching to create data artifacts that support student success. This collaboration has resulted in things like helping to create the UNL Analytics menu in Canvas to support instructors, exploring performance data in large, introductory STEM classes to fuel pedagogical innovations, and exploring the effects of early formative feedback on student learning. At the same time, Chad brings a Diversity Equity Inclusivity mindset to the work, seeing analytics as highly effective at framing equity concerns in undergraduate programs. Chad attributes much of his success to his faculty role, which allows him to bring a faculty mindset and perspective into executive leadership discussions around student success on which the UDP can help shed light.
Chad reflected, "I draw on my experience in the classroom when developing analytics, and then every idea undergoes rounds of revision from my network of instructors. At the same time, I am in the room when chairs and associate deans are having conversations in which I make connections with available dashboards or envision what is possible for the future. My being embedded in both the world of faculty and the world of analytics is helping Nebraska realize the potential of the UDP."
UNL has taken a very thoughtful and intentional approach with Chad's role.  This approach is worth sharing with the larger Unizin community. I hope to visit and learn how other Unizin member institutions are operationalizing the UDP this year and bring that information back to our engineers to continue to evolve the UDP to meet the needs of our members.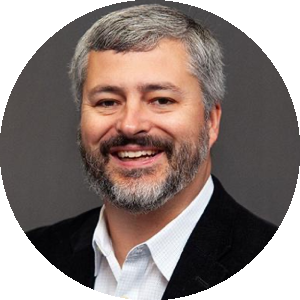 Bart Pursel
Chief Technology Officer
Summit 2022: Registration is open!
Registration for the 2022 Unizin Virtual Summit opens today.
Join us for two days of lively and engaging discussions about breakthrough practices being implemented today, and bold plans to shape the future data-informed decision-making at the institutional level.
It all takes place on April 26 and 28 from 11:00 am to 4:00 pm CT. This year's Summit is open to all and free of charge. Due to the generosity of our sponsors, this entirely virtual event has room for everyone.   Invite your colleagues across the higher education landscape.
Kicking off this year's Summit will be a stellar Keynote Panel featuring faculty voices driving the use of learning data to shape the future of student success.  Join Elizabeth Canning, @WashingtonState University, @VeronicaYan, @TheUniversityofTexasAustin, @RodRoscoe, @ArizonaStateUniversity and moderator @BenMotz, @Indiana University as they discuss how researchers can constructively engage and collaborate within the world's largest learning laboratory, powered by the Unizin Data Platform.
From there, chart your own course as we explore Unizin projects and programs currently underway, discuss digital learning data ethics, policy and governance, and highlight how to utilize learner analytics to address operational and strategic challenges on your campuses.
Last year's virtual format proved to be an unmitigated success, with more participation from more institutions, partners, and collaborators than ever before.  This year will be even better with a host of lively and engaging discussions regarding many of the breakthrough practices being implemented by Unizin members today, and our bold plans to drive the future of data-informed decision-making at the institutional level.
A great big thank you to our proposal writers!  Although we could not fit all the proposals into the schedule, there were so many engaging proposals that we created four simultaneous sessions in most of the time slots.
I hope you'll join us for all or part of this year's Summit.   See you at the Summit! ………. Cathy O
New Unizin Webpage Provides Status for Taskforces and Large Initiatives:
Learning Analytics Strategic Taskforces Update:
Unizin's Data Services and Solutions (DSS) team continues to make progress toward realizing both Student Success Task Force deliverables.  Three primary use cases will be modeled around three levels of analysis:
Impact of and performance measures based on course activities
Measures of engagement/disengagement
Student/course profiles
These analytics will include: individual/student metrics, comparative student and class measures, and semester/program metrics.  In turn, institutional roles determine the degree to which faculty or student success teams see data across courses, semesters and programs.  For example, non-administrative faculty views might only focus on students within the courses that they teach; and advisors, administrative faculty, able to see student profiles, peer profiles and comparison; and student and course metrics by semester or program.   Additionally, focus/filters can be applied to view the above levels of analysis and themes through a STEM or DEI context, or across multiple semesters longitudinally.
Working through the core themes and levels of analysis, DSS has begun modelling and structuring data around the first "Theme" – impact of course activities – through the first level of analysis: student/individual level per course.   DSS meets monthly with a small subset of Task Force members (Gwen Gorzelsky, Colorado State University, Lauren Marsh, University of Minnesota, and Cid Freitag, University of Wisconsin), discussing data modeling and data structure behind data mart development, and ensuring alignment with Task Force deliverables. 
In late April or early May, DSS will meet with both the full LA Task Forces to gather feedback on preliminary work, with refinement and finalization occurring throughout May and June, 2022.  DSS will also present their Task Force planning to the LA Community of Practice subgroup March 4, 2022.
eReader Replacement Taskforce Update (RedShelf)
Unizin engineers are currently working with their RedShelf counterparts towards a functional LTI launch of the RedShelf reader within Unizin Engage for delivery by May 1st. Unizin also anticipates our first round of basic Caliper read events being emitted from RedShelf and landing in the UDP sometime in May. By August 1st, RedShelf will be fully integrated into our digital content ecosystem and available for use across the consortium. Beginning August 1 all eTexts will be provisioned in the RedShelf reader while content previously delivered will still be available via the Engage eReader, though we will continue to brand our content platform under the "Unizin Engage" brand.
Security: Aligning to the Trusted Framework
Unizin's security program continues to evolve and solidify, especially in light of the demands of and knowledge gained from the security reviews that are part of new member engagements.  Over the last nine months, Unizin has adopted daily and full monthly vulnerability scans; scheduled formal penetration testing with REN-ISAC; and is working to complete Unizin's NIST 800-53 alignment with improved process and general documentation in support of NIST aligned policies.
In the process updating our NIST policies that support Unizin's security program several questions and challenges arose.  Aside from a very small set of administrative and business operations controls, all of Unizin's security controls necessarily focus on the research activities native to our cloud, GCP environment. The need to separate the mix of administrative controls with those that are implicated in our largely cloud environment became clear.  And, while NIST 800-53 low is widely applicable to a variety of organizations and with applicable controls, its overall design is centered on traditional IT operations, not research or cloud-based infrastructure.  Through our annual process of updating and revising our NIST 800 documentation, we considered whether there might be a better path for Unizin's security program that was both representative of the work we do and was best suited to the cloud-based research that we support?
There is a better fit in the Trusted CI Framework, developed by the NSF in concert with institutions within the NSF community including Indiana University and The University of Wisconsin Madison (see also: Who we are).  In the Trusted CI planning guide, it states, "This Framework Implementation Guide (FIG) is designed for direct use by research cyberinfrastructure operators (RCOs) . We define RCOs as organizations that operate on-premises, cloud-based, or hybrid computational and data/information management systems, scientific instruments, visualization environments, networks, and/or other technologies that enable knowledge breakthroughs and discoveries."
The Trusted CI Framework will allow Unizin to sustain and tailor to a mission-based security program.  By structuring our security program around the unique functions of Unizin's cloud infrastructure, and the workflows that make research using the UDP possible, Unizin can more efficiently and truthfully construct a security program that represents and supports our mission.  Additionally, resources and consulting are available through the Trusted CI team if and when needed.  For a discussion of the Berkeley's experience, see: Trusted CI Success Story, UC Berkeley)
At a high level, the Trusted CI Framework is structured around 4 Pillars that make up the foundation of a fully functional cybersecurity program: 
Mission Alignment
Governance 
Resources
Controls (Center for Internet Security, Critical Security Controls (CSI) recommended controls)
Comprising these pillars are 16 "Musts" that identify the concrete, critical requirements for establishing and sustaining a complete, cybersecurity program. The 4 Pillars and the 16 Musts combined make up the Framework Core, which is designed to be applicable in any environment and useful for any organization. Additionally, adopting a framework that is both highly structured and one where that structure can nimbly express both cloud and research imperatives – the core of what Unizin provides  –  will allow for incremental change and adjustment as Unizin expands services in a way that accurately reflects what Unizin does, and more accurately capture the controls needed to protect our IT assets.
Much needed work is already in place with existing NIST-based policies. Recasting those policies within the Trusted CI Framework and capturing existing resources that support our policies and process will consist of the bulk of work ahead over the next 4 to 5 months.  In the end, our goal is to:
Produce the necessary security policies in place that express our security posture and point to valid documentation and documented process.
Make distinct, Google Cloud infrastructure security policy and documentation from that which comprises Business process security policy and documentation.
Develop a cadence of policy and documentation review.
Develop an annual penetration test.
Finalize a living repository of security artifacts (Monthly vulnerability scans, current year penetration test, Systems Security Plan that serves as an index to policy and documentation, updated Higher Education Vulnerability Assessment Toolkit (HECVAT), updated Consensus Assessment Initiative Questionnaire (CAIQ), and record of disaster recovery testing)
Produce an annual Unizin Security Report, to be reviewed and ratified by the Security and Privacy Committee, to the Board at the end of the calendar or fiscal year.
Unizin Data Platform Update
While much of Unizin's engineering attention is currently focused on the RedShelf implementation and associated content tools, Unizin is also working on UDP improvements. One item that is on the table for discussion is the addition of an option set to the Course Section Role Enrollment Status. Through conversations with one of our member institutions, we discovered that the mapping between Canvas' workflow states values and how they map into the UCDM's role_status was causing some confusion. Unizin is proposing a change, which we will be socializing with various subcommittees and stakeholder groups to discuss how the change might impact different uses of these specific data.
Additionally, Unizin is pursuing more robust vendor tool integrations with Tophat and Kaltura. Both of these tools currently send Caliper event data to the UDP, though it is not enriched with context data, making the events difficult to map back into a specific course section. As a result, it is clear that some of these tools don't necessarily have a concept of a course section from a data perspective, particularly if the tool launch did not originate from within Canvas via LTI. Unizin's research will continue with the enrichment of event data with context data, with the goal of finding a scalable solution that we can apply to the largest number of learning tool data possible.
Vendor Partnership Updates
Since the last partnerships update Unizin has signed two amendments to include two new learning tools to the Digital Content program.  iClicker from Macmillan Learning will now be available in offer catalogs for institutions that utilize iClicker.  We've also added Sage's Vantage courseware platform.
At the end of February Unizin kicked off formal negotiations with a handful of vendors with the goal of adding enterprise and/or student licensing options for Inscribe, Harmonize, Boost App.  All three of these vendors came to Unizin looking for an opportunity to partner with Unizin to see their data flowing through the UDP.  Additionally, Unizin has also kicked off negotiations for three partnership amendments.  Discussion have begun with D2L to add to the existing agreement terms to facilitate the sale of Brightspace for smaller units within an institution, such as continuing ed. or online programs.  Amendment 2 is with Pearson to define terms in order to begin receiving event and context data from their MyLab and Mastering products.  Amendment 3 is with Cambridge University Press to add the courseware platform Cogbooks to the digital content program.
T&L Communities Roll Out the Welcome Wagon
Do you need to onboard new staff who will participate in Unizin projects and collaborations? A new FAQ page provides a brief overview of the Unizin consortium and the Teaching & Learning Advisory Group.  Newcomers are invited to join the T&L Advisory group by filling out a short form at the bottom. Folks who would like to join a subcommittee should fill out the same form.
The new page is the result of a Welcome Wagon brainstorming session that was held at the T&L meeting last May. Participants shared questions that they had as newcomers as well as those that have been asked of them. Many thanks go to all who contributed to this effort!
Potential Unizin Member Engagements
The Unizin leadership team is currently actively engaged with four potential new member institutions:
We know that their constituents are reaching out to learn more about the Unizin consortium as we've heard from a number of Unizin members that they've been contacted.  So please 'be on the watch for' inquiries from:
University of IL – Urbana Champaign: Unizin leadership will be on their campus presenting on March 9 & 10.  Primary Focus: UDP with some future interest in Student Affordability.
University of CA – Irvine: Unizin is undergoing a security review by UCI currently. Primary focus: UDP.   Review of discounts complete.
University of TX – Austin: Unizin leadership has met with UT several times virtually and they are currently assessing their potential discounts under Unizin contracts.  Primary focus UDP.
Virginia Tech – Unizin leadership has met with VT several times virtually and is actively providing copy and advice on the Unizin Value Proposition for a proposal to their executives.
There are several other more nascent engagements with other institutions underway.  Our best referrals and recommendations come from our Unizin consortium community.  Thank you.
Unizin Staff Spotlight: Lynette Mercado
My name is Lynette Mercado and I am the Services Manager at Unizin. I celebrated my fifth Unizin anniversary in November 2021. Time flies when you're having fun, sending the perfect giphy in Slack, working on offer catalogs, implementation projects, or assisting with many a support ticket.
When we hear news of how our direct efforts in the service and support realm have contributed or helped our institutions reach their goals, I feel a great sense of motivation in what I do (much behind the scenes, but always your biggest cheerleader). The entire team at Unizin has the best camaraderie, drive, and humor. I work with fun, talented, witty, and extremely intelligent professionals. They keep me smiling. Most days are spent working in close collaboration with Tracy Thompson, monitoring and managing our Jira board, and engaging with members of the team as we troubleshoot issues our members report, working to ensure everyone gets what they need. At the moment I'm working closely with Brad Zurcher, populating our Order Tool with publisher data so we can make sure faculty and students have access to their course materials via Engage for the first summer semester.
Once a dancer, always a dancer. Growing up, I participated in dance classes, from the age of 3 all the way up until I was 18. I took ballet, tap, and jazz classes. After a brief hiatus, I found myself missing it, so I enrolled in a college ballet course and remembered why I loved it so much. Since then, I've made it a point to incorporate dance into my regular exercise routine and it is the best. I take all kinds of adult dance classes from hip hop, to modern, contemporary, and cardio dance. I highly recommend it to anyone. Dance allows you to express yourself when words aren't enough. It brings peacefulness, joy, determination, and passion. It also brings you back to your past and reminds you what it's like to feel free with the music and movements, both in mind and body.